there was a train crash outside of DC yesterday, on the metro line i take to/from work most days... apparently, a subway train plowed into the back of another one - 9 people have died and over 70 people have been injured... i have no idea how this sort of thing can happen - eric and i were glued to the tv last night at the sight of one train ontop of another... it just seems impossible... roads and subways lines have been shut down and my commute this morning took almost 2 hours... the train was so crowded, we were offloaded so i decided to walk the rest of the way - just wish i had worn better shoes! anyway, my thoughts and prayers are with the families involved in this terrible accident...

here's a shot of the two trains - see what i mean?!?!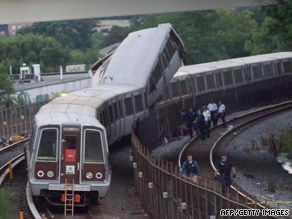 and here's an idea of what the metro looked like this morning - the word 'chaos' doesn't even come close...




on a good note - at least i had a great spin class this morning...

happy tuesday...
---